Financial Planner
Summary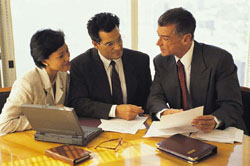 Our goal is to help individuals and small businesses examine their immediate and long-term financial condition to appropriately use their savings, income, and make investments. Analyze financial conditions to determine risk, reward, and opportunity.
How this is accomplished
Preparing financial and business related analysis and research.

Drafting consolidated forecasts and budgets and analyze trends in revenue, expense, capital expenditures and other related areas.

Developing financial review.

Devising debt liquidation plans that include payoff priorities and timelines.

Implementing financial planning recommendations.

Determining clients' current income, expenses, insurance coverage, tax status, financial objectives, risk tolerance, and other information needed to develop a financial plan.

Monitoring market trends.

Making recommendations in areas such as areas as cash management, insurance coverage, and investment planning.

Reviewing clients' accounts and plans regularly to determine life changes that would affect financial strategy.

Meeting with clients' other advisors, including attorneys, accountants, trust officers, and investment bankers, to fully understand clients' financial goals and circumstances.
Financial Planning is offered through LPL Financial, a registered investment advisor.